Discover more from Kadena Ecosystem Weekly Newsletter
Your weekly catch up on everything Kadena!
Over 2,000 subscribers
WalletConnect🔀, K:Academy🧑‍🎓, Marmalade🍯, CoinMarketCap📊, NFTs & more!
Kadena has been releasing a lot of exciting news, updates and progress recently!
WalletConnect KIP-17 to take the ecosystem to the next level
Kadena's brand new learning platform, don't miss it
Eucalyptus Labs announcing WalletConnect V2 integration in Koala Wallet. Available now for Android devices! Google Play Store: http://bit.ly/3AvZXE4
Kadena's Principal Engineer, Lars Kuhtz & Emily Pillmore chat about the latest developments
Marmalade - A new kind of NFT marketplace
Kadena now gets to engage with you on CoinMarketCap too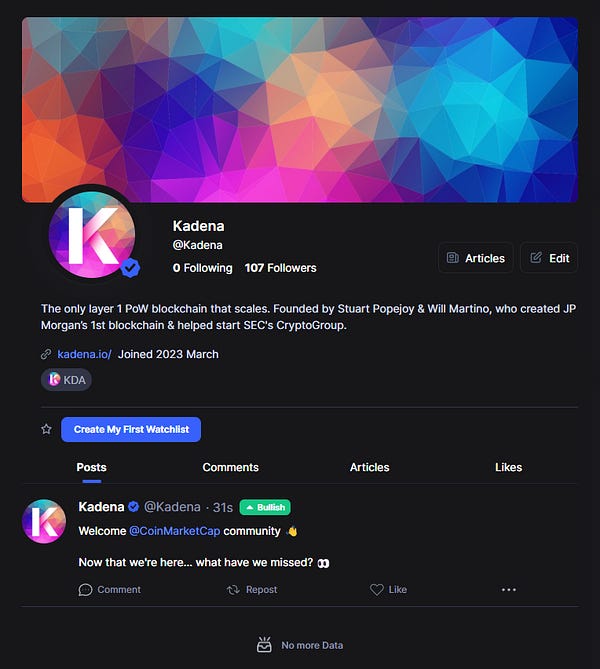 We're excited to join the @CoinMarketCap community soon, once we're verified ☑️
Did you listen in, as we met some of the team behind Koala Wallet
Kadena won the vote - Well-done #Kadenians
Mining NFTs with Hypercent
Shiba Shinobi, has a nice ring to it
Calling all destroyers they said…⤵️
$KDA
swarms.finance
#beta
So close!! More peek from the Squeeg. Please come and break it! Calling all destroyers. Join our discord, and we will get you some testnet tokens. --->
discord.gg/d9GeVDtK
#WAGMI Kadenians and see you on our socials!
Thanks for reading Kadena Ecosystem Weekly Newsletter! Subscribe for free to receive new posts and support my work.